<![if !vml]>

<![endif]>
2016 Phyllis L. Tubbs Service Award
Annie Gunselman
Heritage Hills High School
In 1975-76 the ICGSA Executive Board established this award to be given to honor an ICGSA member who has served girls' athletics for several years.  The recipient should have been or is an active member of ICGSA, and has established longevity through several years of service to girls' athletics and the association.  In 2002-03 the Executive Board named this award the Phyllis L. Tubbs Service Award.
Our Service Award winner is a graduate of Oakland City University with a bachelor's degree in English and a minor in physical education and completed a master's degree in Education from the University of Southern Indiana.  She has been a volleyball coach for 31 years beginning her coaching career at South Knox High School and is currently at Heritage Hills High School.  In addition to her coaching duties she is currently an English 10 teacher at Heritage Hills.
Earlier this evening she was honored with our ICGSA 30 Year Award.  She has been a successful volleyball coach and has been honored by the ICGSA with both District and State Coach of the Year honors.  But more importantly the reason that the ICGSA Executive Board has chosen to honor her tonight with our Service Award is her dedication and contributions to ICGSA through her service on the volleyball committee.  She has been a volleyball rater in Class 3A since 1996.  She served as an ICGSA volleyball committee member from District 5 from 1999 through 2005.  During that time she was in charge of the ICGSA state volleyball poll and served as the South All Star Tryout Director.  Her contributions to our volleyball committee not only impacted her own southern District 5, but it also had a positive impact on all volleyball athletes in the state of Indiana.
I have known our recipient throughout her 31 years of coaching and serving the ICGSA volleyball committee, and I know that she is a very humble and unassuming person.  I understand that she will be retiring from coaching this year, so it is only fitting that we says thanks and honor her for her Service not only to ICGSA but her continued service to the young female athletes in southern Indiana.  In addition to the plaque that Bruce Fleming, our president is presenting to Annie, she will receive the gold Service Award ring from Gary Clark of Clarks School Service our Herff Jones Corporate Sponsor. On behalf of the ICGSA Executive Board, I present to you the recipient of our 2016 Phyllis L. Tubbs Service Award – Annie Gunselman, Heritage Hills High School.
<![if !vml]>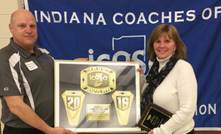 <![endif]>