SOUTH DOMINATES 2013 ALL-STAR TENNIS CUP

Center Grove High School was the host of the North vs. South High School All Star Tennis Cup matches Sunday. Twenty four graduating seniors competed in this 15th annual event, organized by the Indiana Coaches of Girls Sports Association under co-chairs Sharon Rosenburgh and Debby Burton.
After three rounds of competition, the South team assembled a 37-17 margin of victory. Coaching the South were Mark Noe of Indianapolis Cathedral and Ray Trapp of Evansville Memorial.
Contestants on the victorious South squad were Emily Doehrman (Brownsburg); Simone Deighan (Cathedral); Emily Jones, Abby Long, Kimber Marsh and Grace Neathery (Center Grove); Macie Elliott, Rachel Swartwood and Brenna Wu (Evansville Memorial); Kristen Conoley (Franklin Community); Meghann Fitzpatrick (Mooresville); Gretchen Wilder (Oldenburg Academy); and Morgan Riley (Jeffersonville).
Jones, Neathery, Wu, Conoley, and Wilder went undefeated in their three contests to lead the South's conquest.
The North All Stars were Marianne Sergi and Morgan Paras (Bishop Chatard); Natalie Alexander, Ashley Loffer and Marissa Morris (Delta); Allyson Davis and Jenna Dickerson (Lebanon); Kelsi Tammen (Mt. Vernon); Ada Kirby (Muncie Central); Madelyn Lee and Haley Meekhof (Penn); and Paige Heuer (Munster). They were coached by Eric Bowers of Penn and Matt DeVault from Alexandria.
Coaches in attendance voted for District Coaches of the Year. Honorees were District 1 - Bill Heuer (Munster), District 2 - Eric Bowers (Penn), District 3 - Mike Teders (Mooresville, District 4 - Steve Gantz (Greenwood), District 5 - Scott Yarbrough (Jasper). From these winners, Heuer was chosen to be Indiana State Coach of the Year.
Complete results follow:
ROUND 1
#1 Singles: Brenna Wu (S) def. Ashley Loffer, 6-1
#2 Singles: Emily Jones (S) def. Kelsi Tammen, 6-0
#3 Singles: Meghann Fitzpatrick (S) def. Ada Kirby, 6-2
#4 Singles: Grace Neathery (S) def. Jenna Dickerson, 6-1
#1 Doubles: Macie Elliott/Rachel Swartwood (S) def.
Marissa Morris/ Natallie Alexander, 6-2
#2 Doubles: Paige Heuer/Madelyn Lee (N) def.
Emily Doehrman/Simone Deighan, 6-2
#3 Doubles: Abby Long/Kimber Marsh (S) def.
Haley Meekhof/Allyson Davis, 6-3
#4 Doubles: Kristen Conoley/Gretchen Wilder (S) def.
Morgan Paras/Marianne Sergi, 6-4
ROUND 2
#1 Singles: Lee (N) def. Swartwood, 6-2
#2 Singles: Heuer (N) def. Fitzpatrick, 6-1
#3 Singles: Morris (N) def. Deighan, 6-0
#4 Singles: Wilder (S) def. Paras, 6-1
#1 Doubles: Elliott/Wu (S) def. Loeffer/Alexander, 6-0
#2 Doubles: Jones/Neathery tied Tammen/Meekhof, 5-5
#3 Doubles: Conoley/Doehrman (S) def. Dickerson/Davis, 6-2
#4 Doubles: Long/Marsh (S) def. Kirby/Sergi, 6-1
ROUND 3 (supertiebreaks)
#1 Singles: Heuer (N) def. Elliott, 10-6
#2 Singles: Swartwood (S) def. Alexander, 10-4
#3 Singles: Wu (S) def. Dickerson, 10-6
#4 Singles: Jones (S) def. Kirby, 10-4
#1 Doubles: Doehrman/Conoley (S) def. Meekhof/Lee, 10-8
#2 Doubles: Loeffer/Morris (N) def. Long/Marsh, 10-7
#3 Doubles: Fitzpatrick/Neathery (S) def. Sergi/Tammen, 10-4
#4 Doubles: Deighan/Wilder (S) def. Paras/Davis, 10-7
<![if !vml]>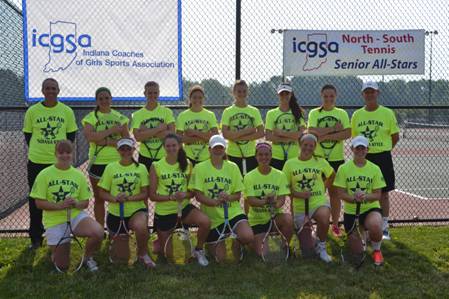 <![endif]>
2013 South Team